IFAM H14 & TOP LOCK Set- High resistance manganese steel alloy chain with 14mm diameter hexagonal links and padlock.
A saving of £10.00 when ordered online!
The Top Giant motorcycle anti theft chain from IFAM combines the H14 chain with a cylinder shaped high security padlock with a double U shackle measuring 14 mm in diameter. If you wish to achieve the highest degree of protection for your motorcycle look no further: the Top Giant is the solution.
LINKS:

– Made of steel and high resistance manganese alloy.
– Nickel plated to make them highly resistant to rust.
– Hexagonal shape.
– Diameter: 14mm.

PADLOCK:

– Tempered steel body.
– Double U shackle for the perfect fitting of the chain´s links.
– Bolt-cutter proof hardened shackle.
– Shackle diameter: 14mm.

LENGTH:

– 1.20m

OPENING / LOCKING:

– Security cylinder armoured with two hardened steel escutcheons.

KEYS:

– Dimple key with millions of differs.
– Supplied with 3 keys.

OTHER FEATURES:

– Includes cover made of resistant black nylon.
– Excellent flexibility.- Sold Secure Motorcycle Gold Rated.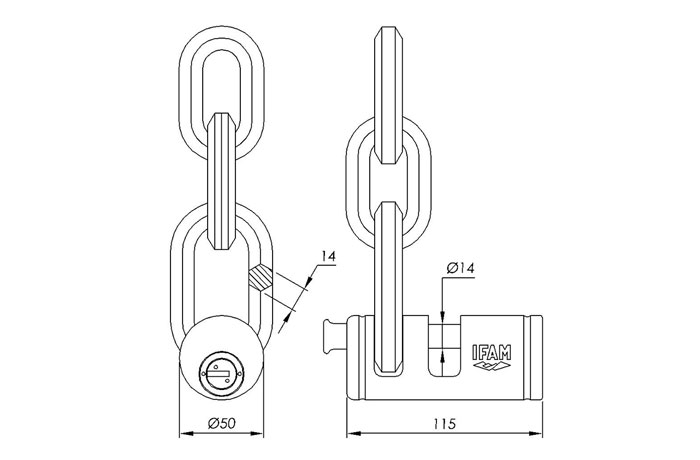 No reviews have been left for this product, be the first to
leave a review